This is maybe a petty criticism but it's been bothering me for the past few days and I wanna get something out there. I have grown to dislike the layout of the Ranch. And I mean this literally: How the areas of the Ranch are laid out annoys me.
To explain, here is what the ranch looks like right now: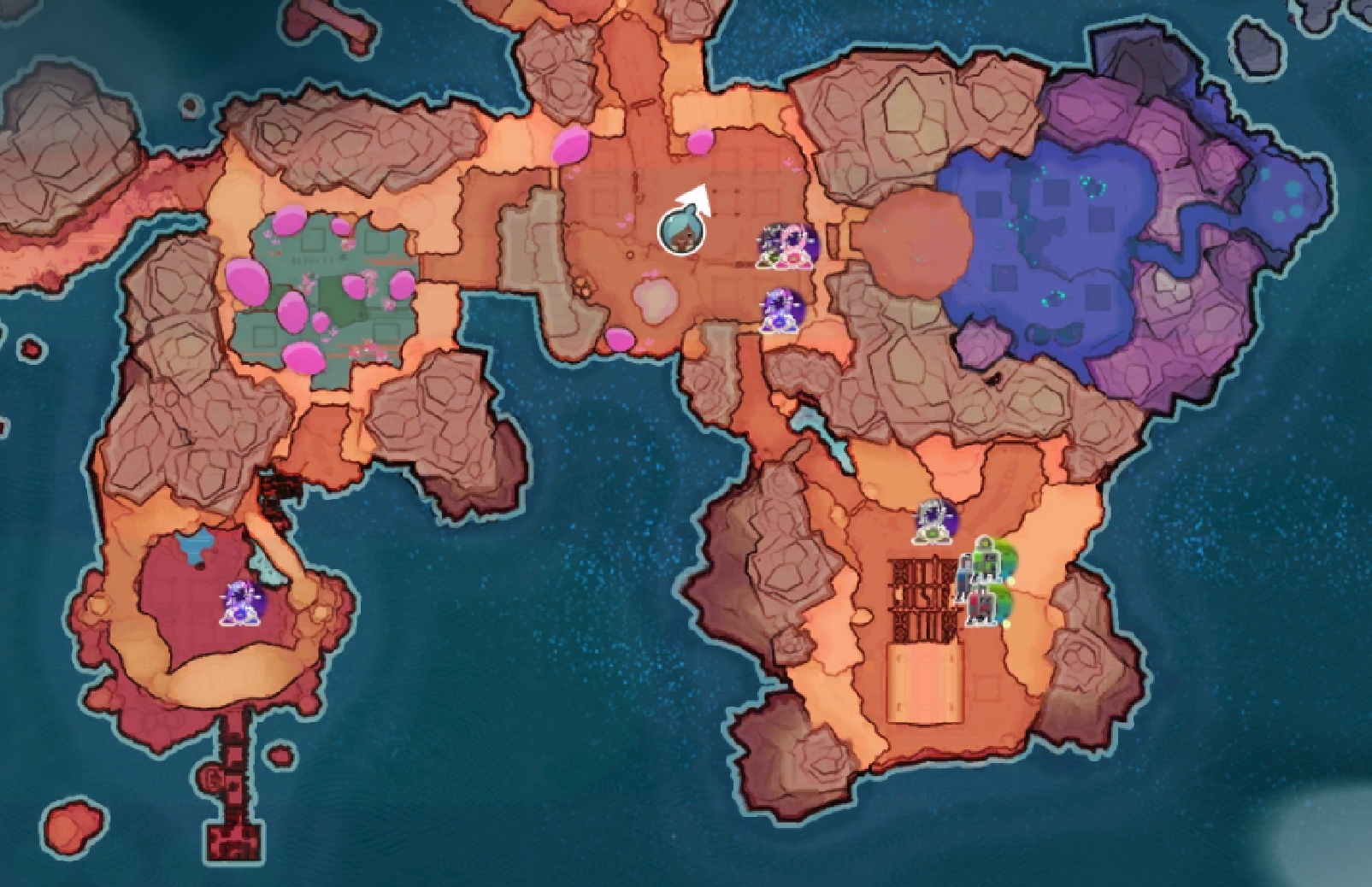 As you know, you have 5 areas for raising slimes. Once you unlock all of them you have plenty of room and if, like me, you prefer raising largos then you can basically have a place for every slime type plus a neighboring plot for their favorite food. Heck you even unlock two other ranches, which is kind of overkill but hey! let's crash the market with all these plorts we are ROLLING IN IT,
BABY
! That's all fine and dandy. It's not terrible, really.
Until you start having to carrying things all over the place. Especially towards the late game, you'll be needing to run all over your ranch to tend to your slimes, which can take a whole day. Say, as an example, you're raising mosaic dervish largo slimes in the docks. If you disregard the teleporter and have 250 energy (and the ultra dash boots) then it takes about 35 seconds at best to bring them to the refinery. Not too bad, but when you are doing this over and over and OVER again it starts to wear you down. To put that into perspective, if you start from the gate to the Dry Reef and sprint the whole way, you can get to the main bridge leading to the Moss Blanket in the same amount of time. That is how long the trip is from one end of the ranch to the other.
Now, this issue is mitigated somewhat thanks to warp tech. As you can see in the map, I have a teleporter between the docks and the main ranch for this exact reason. Refinery and market teleporters exist for similar reasons. But... why does the map have to be arranged this way? Not only does this make it take longer to get around the ranch, but it causes technical problems as well! I frequently walk up to my docks area to find the auto-feeders spitting out everything in their storage because they apparently have to catch up with a dozen cycles they apparently didn't do, and the plort collecters seem to be suspiciously light on plorts even while my slimes on the main Ranch have produced well in excess of 200 plorts, and it IS apparent since all my slimes immediately devour several pieces of food like they've not eaten for days. I can only assume this part of the ranch is so far away from everything else that the game does not keep it loaded unless I visit it frequently. And, like I said, without teleporters it takes a long time to get from one side of the ranch to the other.
So what would I prefer to see instead? Well, I like the connectivity between the Ranch, the Lab, and the Grotto. Each one has a connection between them and going from one to the other is not much of a fuss. Even going in between the Grotto and the Overgrowth is fine since they're connected on opposite ends. It's the Docks that are the big problem and to that end, I wanna suggest the map look like this instead (excuse any poor photoshopping skills here):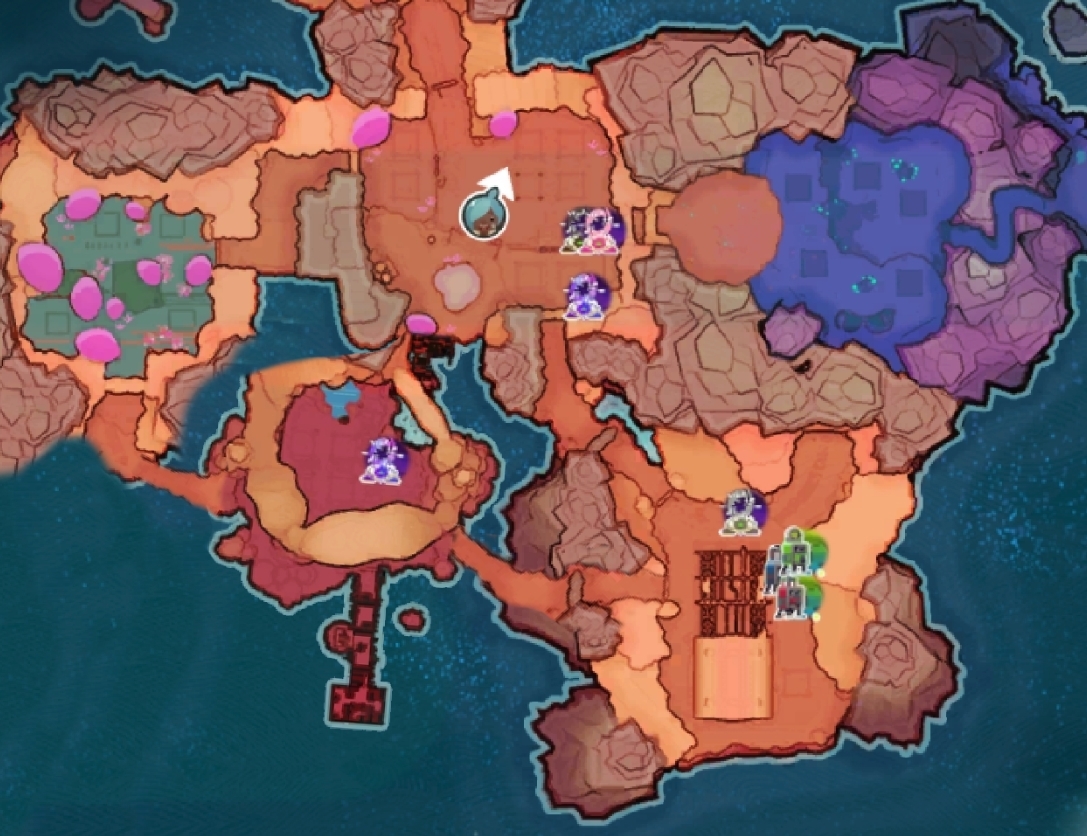 As you can see in this image, it would not be at all hard to place the Docks behind the Ranch, specifically behind the house. In this location, it could be connected to the Ranch, the Lab, and the Overgrowth all at the same time and make the place much more interconnected. Plus this would likely mitigate the issue of the place apparently not remaining loaded to keep the slimes going.
I have other petty niggles related to this. After playing this game in the late stages, these paths start to become a bit of an annoyance: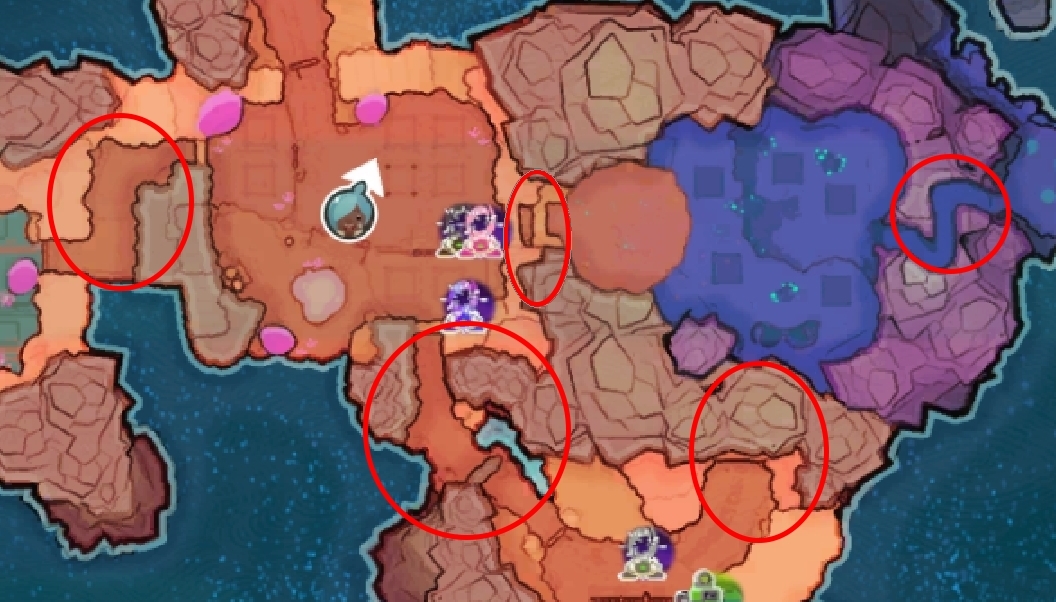 As I say, it's not terrible really. But some of these are really just dumb. Look at that path leading out the back of the Grotto. Why... why does it have to twist around like that? And the Overgrowth path... why can't that be a straight line? If it's for a technical reason then fine but... going along these semi-lengthy paths starts to feel tedious after a hundred trips.
I have other issues but they are a LOT pettier than this so I won't mention them for now. I hope somebody at least acknowledges this I actually spent way more time doing this up in photoshop than I should have.