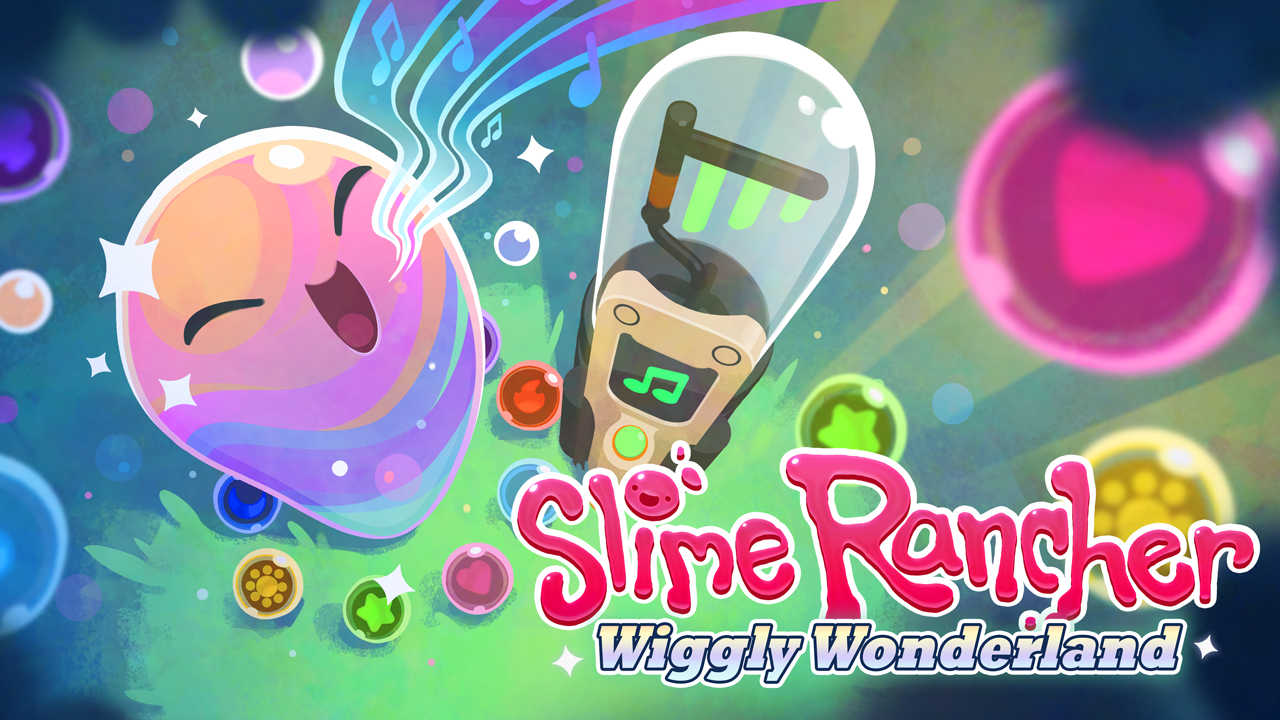 Happy Holidays, ranchers!
We're excited to bring
Wiggly Wonderland
back again this year! This festive, limited-time event celebrates the end of another year on the Far, Far Range.
Starting
December 18
, you will receive daily visits from the mysterious "twinkle slime." Find the twinkle slime and collect its special gifts!
Every day between Dec 18 - 30 (local time), the twinkle slime will appear somewhere on the Far, Far Range. Follow the music to find the twinkle slime and receive a collection of musical chimes.
We'll be posting hints on where the twinkle slime has been spotted, so check our
Twitter
around 9AM (PT) throughout the event for a hint on each day's location.
Chime Instruments
Chimes are mysterious motes of energy that are produced by the twinkle slime. If you touch them, they vibrate and emit a musical note! Many ranchers who have collected them like to arrange the chimes in a way that creates song-like compositions.
We've recently discovered a way to alter the chimes to sound like different musical instruments! Find the twinkle slime to unlock special instruments for your chimes. Use the
Chime Changer
to compose new songs and fill your ranch with joy this holiday season!
Remember to share your musical creations by tagging them with
#WigglyWonderland
on Twitter and Instagram!
Holiday Giveaway
To help celebrate the season of giving, we've put together a holiday giveaway for you to join! This year, we're giving away a MEGABUNDLE of Slime Rancher goodies including:
Autographed Collector's Edition

of Slime Rancher (PS4 or XB1)
Key for Slime Rancher on Steam (for you or to gift to a friend!)
The Original Soundtracks 1 & 2 on Steam
Steam key for Slime Rancher's

Secret Style Pack

Glitter-foil sticker pack from For Fans By Fans
Choice of 3 Slime Rancher plushies!
Enter to win here!
Winner will be selected Jan 6th and will be contacted through the email used on your entry.
Good luck, have fun, and happy holidays! :)
Patch Notes
New to Wiggly Wonderland:
- 5 Chime Instruments have been added to this year's event. Unlock them by finding the twinkle slime 5 times throughout the event. (For those doing the math: yep, you just need to find the twinkle slime 5 out of the 13 times it will appear over the next two weeks!)
- There's a bonus instrument unlock for anyone who finds the twinkle slime on the final day of Wiggly Wonderland (December 30th).
- Added a Chime Changer gadget to the ranch so you can customize what your chimes sound like. Once you unlock an instrument, go to the Chime Changer to choose which instrument you like best! The selected instrument will apply to all chimes on your ranch or on the range.
- We added a 13th chime, the high C, so you can enjoy a full chromatic scale!
Changes:
- Added new Party Gordo ornaments. Look forward to collecting these next year!
- Updated the game credits to include new folks who have joined our team.
- Added a code flag to help us better parse errors between different game states.
- Adjusted how chime sound effects play when multiple chimes are together.
- Adjusted how things collide in the ash trough to reduce the frequency of fire slime escapes.
- Updated some vac slot colors so they better reflect the objects being vac'd.
- Adjusted the Chicken Cloner crafting requirements to be more scientifically improbable.
- Moved a treasure pod from behind the Lab to inside of the Lab.
- Added a Slimepedia entry for ornaments.
Fixes:
- Fixed an error that would appear when the game was being played in some languages.
- Fixed a scene loading bug that could cause the game to crash.
- Fixed a bug where the fire around fire slime plorts would be extinguished.
- Improved gadget sites so gadgets should appear more grounded.
- Fixed a visual bug with the slow fields in the Nimble Valley.
- [PS4/XB1] Made a change so that phase lemons would look correct in this reality.
- [PS4] Fixed an issue that could cause you to lose input control after being knocked out.
We're very excited for this year's Wiggly Wonderland and we can't wait to see all of your decorated ranches and musical creations! (Remember to tag your posts with #WigglyWonderland!)
There will be plenty of fun surprises happening both on the Far, Far Range and outside of the game. Make sure you're following Monomi Park and Slime Rancher on your favorite media spots so you don't miss a thing ;)
Twitter
Instagram
Facebook
YouTube
Twitch
Thank you for helping us celebrate another year of wiggly fun! :D
EDIT - Dec 25th:
Updated the instrument unlock description to be more accurate. The 6th instrument is unlocked on the final (13th) day of Wiggly, not on the 6th day of seeing the twinkle slime.